8 Advantages of Hiring ECCO Sunroom & Awning for Your Retractable Awning vs DIY
Picture this: a sunny day, a gentle breeze, and you're yearning to relax in the cool shade of your brand-new motorized awning. While the allure of a DIY project might tempt you, there are some tasks best left to the experts. When it comes to purchasing a motorized awning, it's wise to put away the toolkit and call in the professionals. In this blog, we'll explore eight compelling reasons why entrusting the installation of a retractable awning to the ECCO Sunroom & Awning pros is the right choice.
Schedule a FREE Design Consultation
Fill out the form below to start exploring your options.
1. ECCO Sunroom & Awning Offers Higher Quality Awnings With More Customized Options Than DIY
ECCO Sunroom & Awning specializes in customized comfortable outdoor living space solutions. ECCO Sunroom & Awning offers some of the highest caliber of crafted awning products available on the market. All of our retractable awnings are manufactured entirely in the USA with impeccable craftsmanship and quality care. Along with the high quality and durable product offerings, our motorized awnings come in a wide array of customized options. We tout over 250 fabric choices in a variety of colors and styles including solids, stripes, textures, and tweeds. Depending on the style of awning you choose, the hood can also come in a variety of colors and materials that match the look and feel of your home. The frame also comes in several powder coat colors which will serve to seamlessly integrate with the look and feel of the existing exterior of your home.
ECCO Sunroom & Awning can guide you through various options and suggest the most suitable solution based on your preferences, budget, and outdoor space requirements.
With our in-home estimate and local showroom you can get a live demonstration of our awning products to touch, feel, and see for yourself the awning before purchasing. Together, the premium quality materials and variety of options allows you to select a customized motorized awning that reflects your home's style and taste when you make your purchase through ECCO Sunroom & Awning.
On the other hand, DIY motorized awnings are typically assembled offshore with sub-quality materials to save on costs. This cheaper quality route often has fewer options for customization and is less durable, having a shorter lifespan. Because you are not able to touch and feel the fabric, you are taking a shot in the dark as to the true color match and durability.
When purchasing an ECCO Awning, you get the highest quality awning parts and fabric with the greatest selection options for the best value.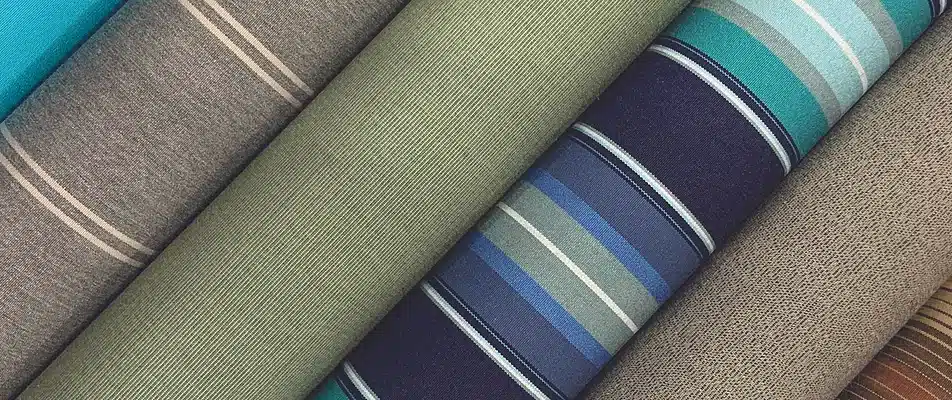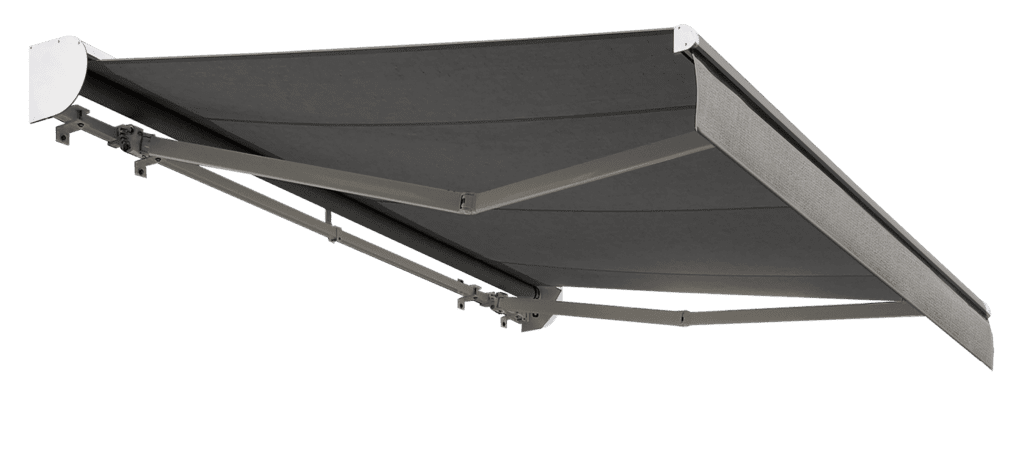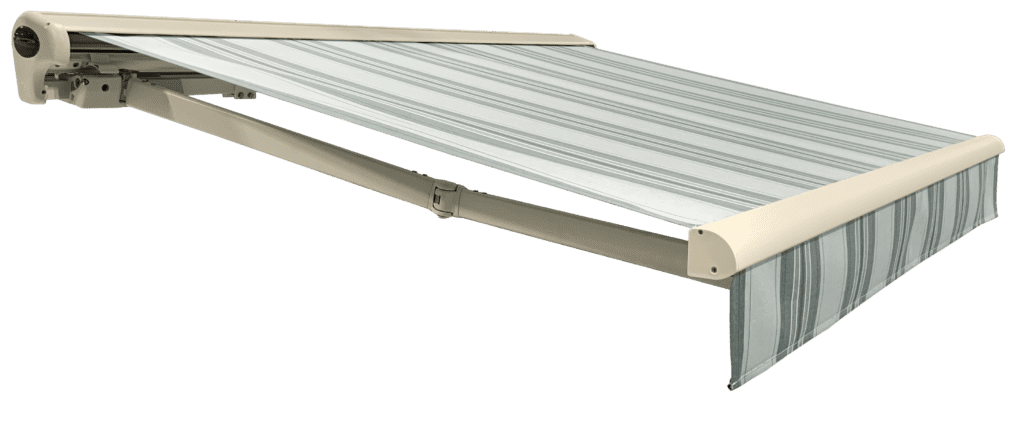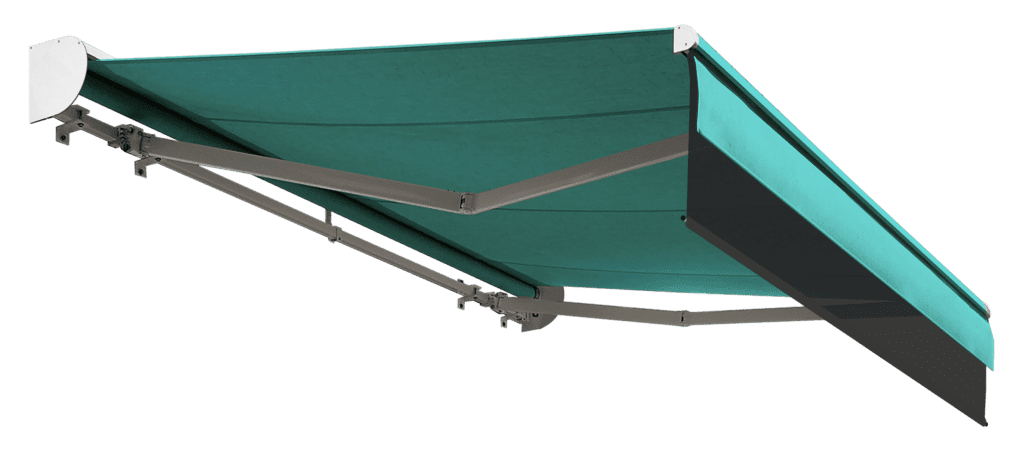 2. Professionals Offer Awning Solutions Custom Fit To Your Home
The ECCO Sunroom & Awning team knows retractable awnings. We are well-versed in the intricacies of motorized awnings. Our team will guide you on the best awning style, length, extension arm length, add-ons and more that will best suit your home and meet your objectives for shade. Instead of guessing at the right dimensions and reading numbers from a website, have the experts guide you. Often DIY awnings come in premade sizes, not customized. A DIY awning purchase and installation could lead to an ill-fitting motorized awning. If your awning doesn't fit properly, then it could be ineffective in providing shade and blocking sunlight. When you purchase a motorized awning from ECCO Sunroom & Awning, our team helps you select the ideal custom awning that fits properly, is seamless to the exterior and style of your home and is properly installed.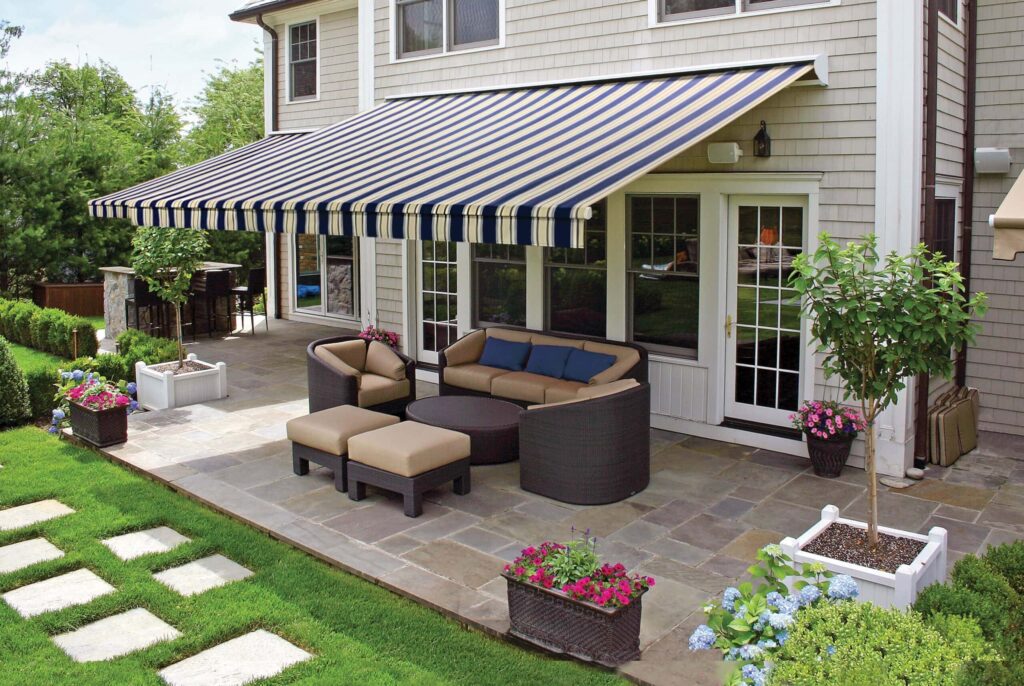 Featured discount figured from 25% of average cost of $7,000 for a motorized awning. One offer per household. Offer valid only at time of initial in-home quotation. Awning installation based on average awning order timeline. Offer not valid on prior sales or combined with other offers. Some restrictions apply. Call for complete details and pricing. Offer ends 9/30/23.
3. ECCO Sunroom & Awning Offers Better Warranties For A Longer Lasting Awning Which Is Cost Saving For You
Motorized awnings are an investment in your home's comfort and aesthetics. By having a professional handle the installation, you safeguard your investment and ensure the awning performs optimally for years to come. ECCO Sunroom & Awning products are built to last. We confidently offer the best warranties in the business on all of our shade products. While a DIY awning may be cheaper on the front end, it will most likely have a shorter lifespan. It won't be cheaper when you have to replace it every season.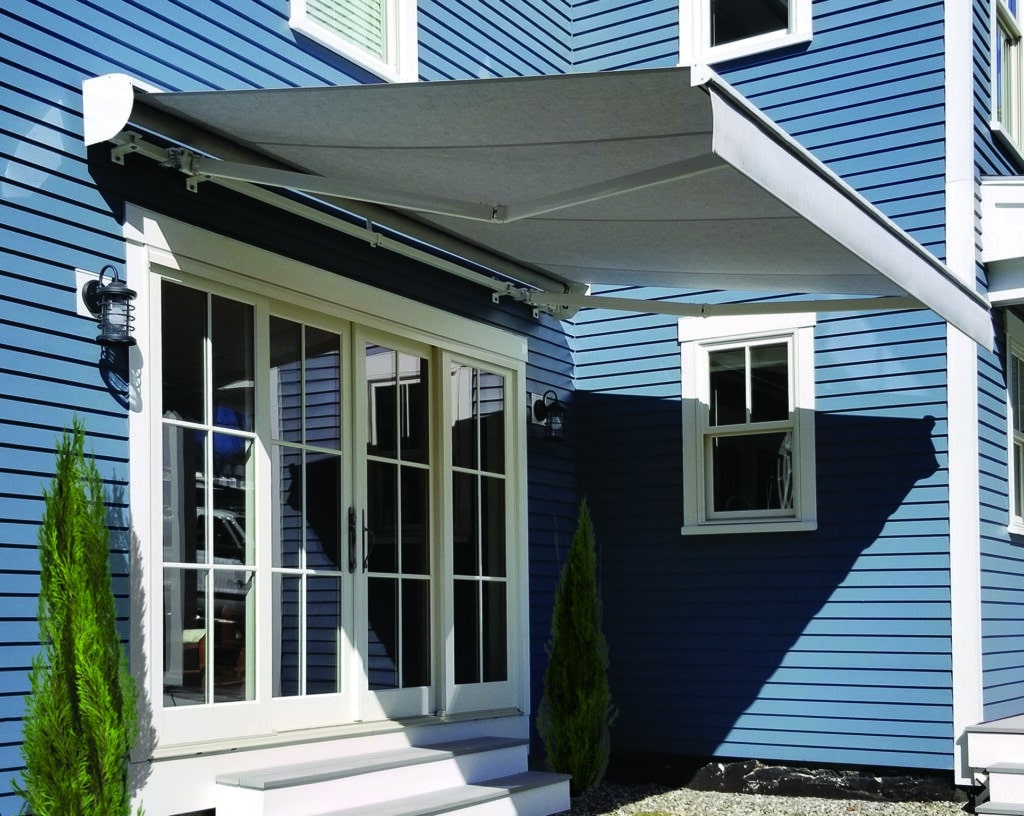 4. Expertise Awning Installation To Your Advantage
The professional design and installation team at ECCO Sunroom & Awning are trained in awning installation, from design idea to completed project. Your retractable awning installation is not our first project. In fact, we've also completed thousands of awning projects. Instead of attempting to install your awning on your own and risking problematic errors and possible collapse, have the professional team of ECCO Sunroom & Awning install it correctly. Owing to our decades of experience we will be able to provide you with expert advice on the best placement and awning selection to create your dream shade space.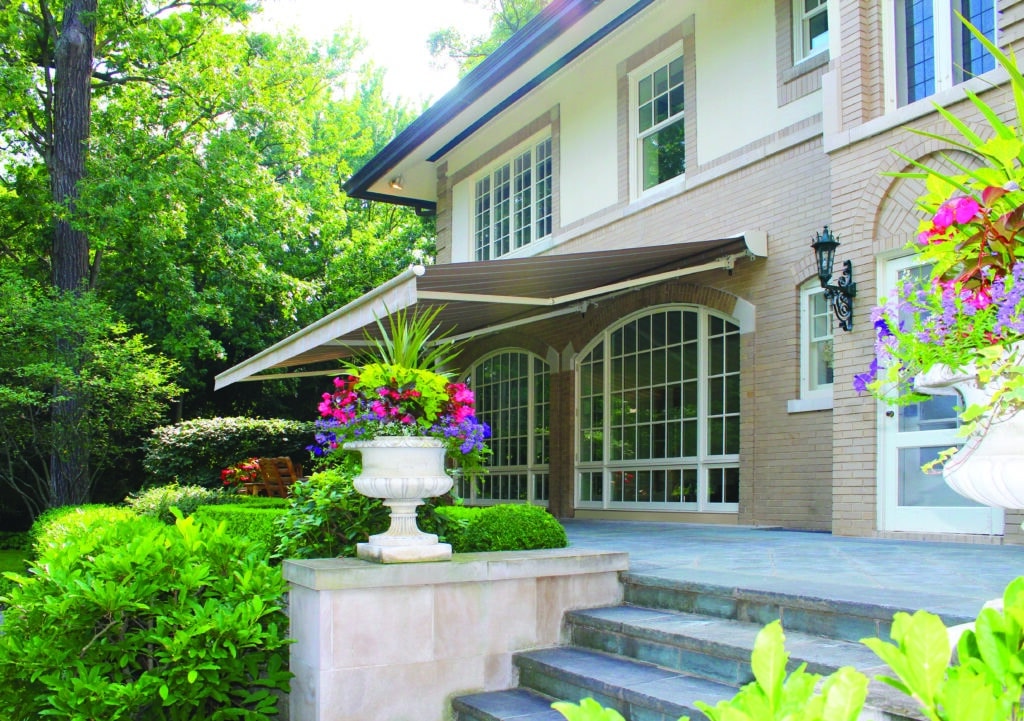 5. Having Pros Install Your Awning Avoids Mistakes & Saves You Money
Installing a motorized awning requires specific skills, knowledge, and equipment to ensure it's mounted securely, level, and functions flawlessly. Motorized awnings are challenging to install. They are heavy (often weighing 200+ pounds), awkward to handle due to their length, require access to and connection to electricity, and are mounted at a great height. Professional installers possess the skills and knowledge and expertise needed to execute a seamless installation. The ECCO Sunroom & Awning team will ensure that your awning is precisely aligned, properly anchored, and fully functional. Professionals avoid common mistakes that DIYers might encounter, such as uneven positioning, inadequate tension, or electrical connection errors.
If you choose to attempt to install a motorized awning on your own, you are opening yourself up to potentially costly errors that require time-consuming and expensive fixes. Professional installers have the experience of getting it right the first time, reducing the likelihood of mistakes and saving you money in the long run.
6. Safely Have Your Awning Installed
Motorized awnings involve electrical components and moving parts, making installation potentially hazardous, especially for those without the necessary experience. The professional ECCO installation team is well-trained in safety protocol. In addition, our expert installers are geared with all the proper equipment necessary to handle a risk-free and solid motorized awning installation. Our experience, knowledge, and equipment ensure that the installation is carried out with minimal risk to both your property and your well-being.
7. Less Time Installing Your Awning & More Convenient For Your
Awnings, especially motorized ones, are sophisticated products that demand time and attention to detail during installation. Installing a motorized awning can be a time-consuming endeavor, especially for those without prior experience. Attempting a DIY install will be a huge undertaking that will likely take you hours if not days. Meanwhile, professional installers can complete the project in a fraction of the time. By leaving it to the professionals, you free up your time, allowing you to focus on other priorities while knowing that your awning installation is in capable hands.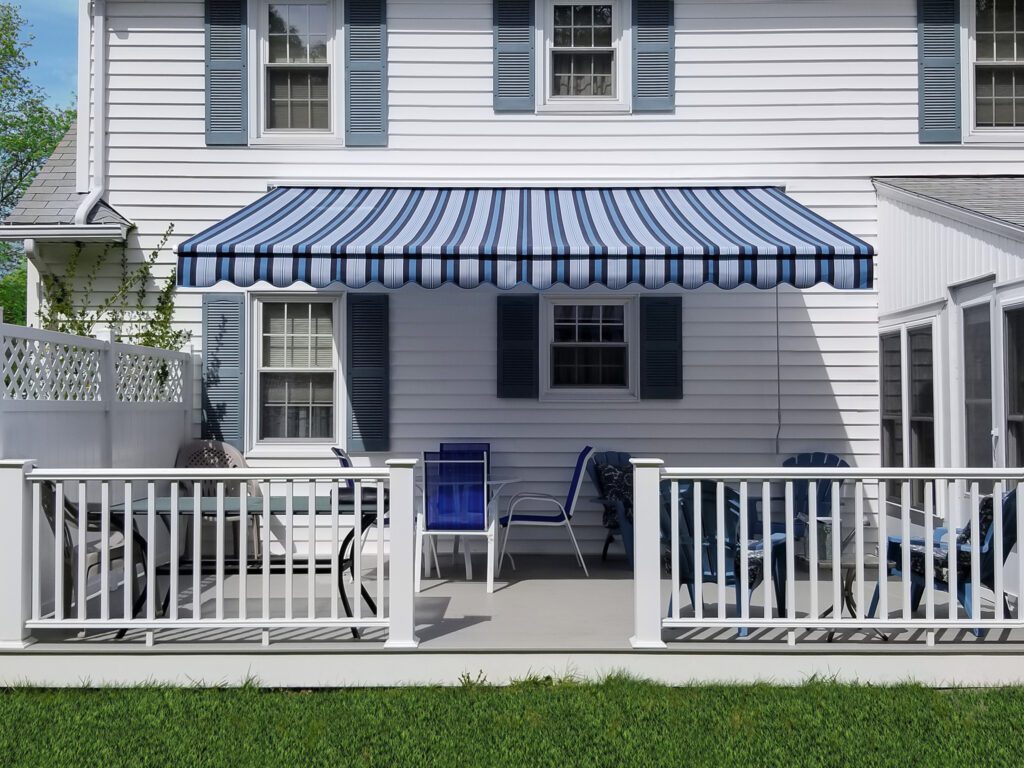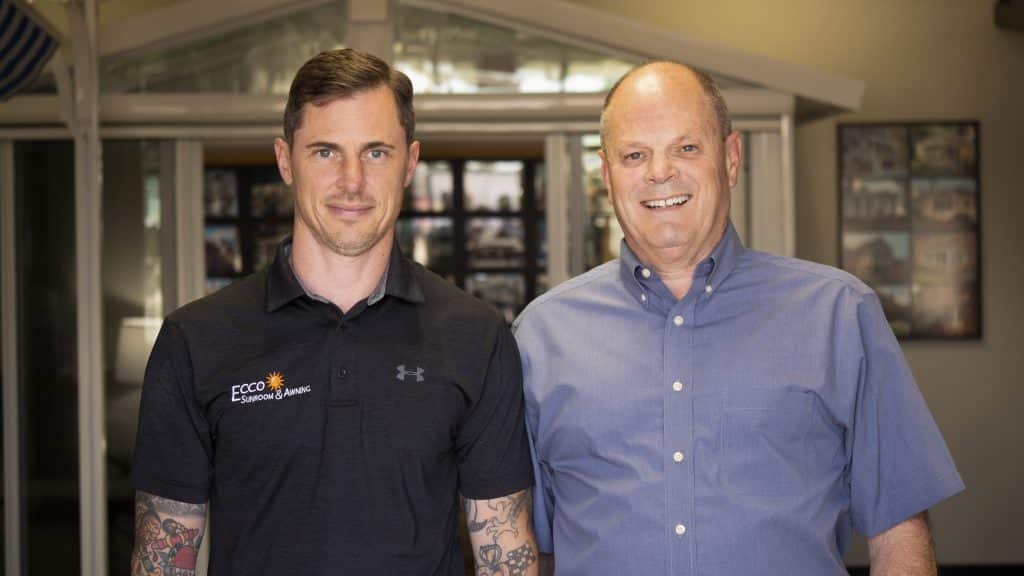 8. ECCO Sunroom & Awning Isn't Just Your Install Team, We Are Your Go-To Awning Expert
When you purchase an awning from ECCO Sunroom & Awning, our team becomes the point of contact for your shade product from selection to install and then some. If you have questions or need repairs our professional team is available. If you choose to install an awning on your own, When problems arise, you are on your own to solve them. There is no warranty or professional installation team to help you make fixes or replacements.
Wrap-Up Of 8 Advantages of Hiring ECCO Sunroom & Awning for Your Retractable Awning vs DIY
ECCO Sunroom & Awning has three decades of experience creating sunrooms, screen rooms, and awnings that turn outdoor living space dreams into realities across Hampton Roads. From Williamsburg to Virginia Beach, Northeastern North Carolina and the Eastern Shore of Virginia, ECCO Sunroom & Awning specializes exclusively in building sunrooms and awnings. Our in-house design and construction teams have built thousands of sunrooms, screen rooms, and awnings for satisfied homeowners across Hampton Roads. We take great pride in our quality products that are second to none. With great financing options available, schedule a free in-home idea meeting and quote to bring you closer to an outdoor living space your family can enjoy for years to come.
While DIY projects can be rewarding, some tasks require the expertise of professionals, and installing a motorized awning is undoubtedly one of them. From ensuring your safety and the proper functioning of the awning to providing valuable advice and customization options, professional installers bring a level of skill and efficiency that DIY projects simply can't match. When you choose ECCO Sunroom & Awning, your awning will appear as though it was included when the house was first built.
Moreover, with potential cost savings, warranty coverage, and the assurance of a flawless installation, choosing to have the ECCO Sunroom & Awning team handle the job is a decision you won't regret. So, sit back, relax, and let the experts at ECCO Sunroom & Awning transform your outdoor space into a dream oasis with a perfectly selected and installed motorized awning that will provide years of enjoyment and shade.
Call ECCO Sunroom and Awning today for a FREE In Home Estimate at 757-424-0022.